Disponible en:

Español (Spanish)

日本語 (Japanese)
The value of San Miguel de Allende goes beyond its architecture and the beautiful St. Michael Archangel parish, which has a gothic inspiration from the Old Continent churches; and that has also been the cover of uncountable magazines, San Miguel de Allende is about what you can enjoy during your stay. A mixture between pop culture, art galleries, handcrafted items, glamour, relaxing and bohemian atmosphere, give the city a remarkable signature. One of the most beautiful cities in the world without a doubt, declared by UNESCO as World Heritage Site. In 2020, the city was endorse with the World Travel & Tourism Council's "Safe Travels" stamp, which recognizes the implementation of global standardized health and hygiene protocols and #2 on the World's Best Awards 2020, a survey for top travel destinations and companies in the U.S. and around the globe; reason enough to know is a destination beyond your expectations.
Its extensive and extremely attractive hotel offer goes from cozy boutique hotels to properties of historical value for lovers of colonial architecture. Its gastronomy is cosmopolitan, a fusion, as well as traditional; this is definitely the perfect destination for those who love to eat and to drink.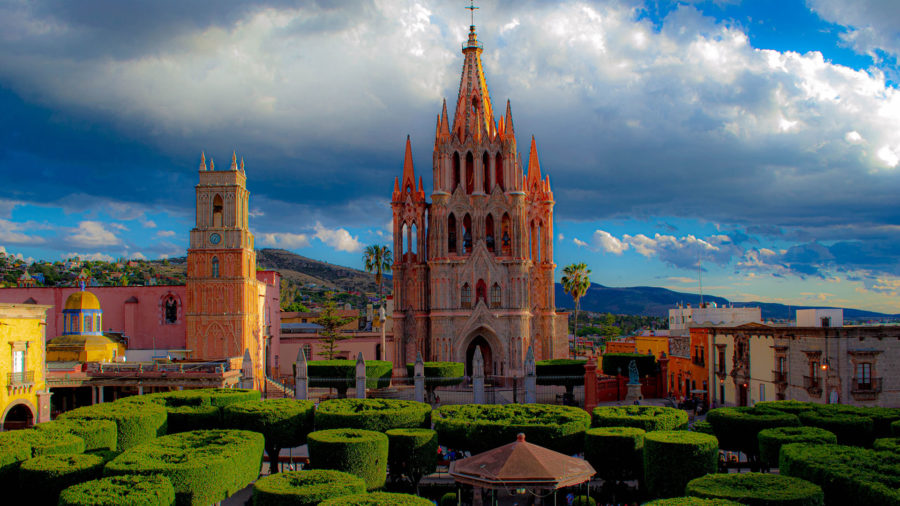 Jardín Botánico el Charco del Ingenio: Es una reserva natural y jardín botánico de 70 hectáreas, situado a pocos minutos de San Miguel de Allende, que sobresale por su enorme colección de cactáceas y otras plantas suculentas, algunas en riesgo de extinción. La colección botánica incluye cactus cilíndricos, esféricos y ovoides, siemprevivas, bromeliáceas, distintos tipos de agaves y otras especies.  Tel: 4151544715
Zona Arqueológica Cañada de la Virgen: Desde San Miguel de Allende, tome la carretera que va a Celaya hasta el entronque con la carretera 51 para seguir en dirección de Guanajuato. Después de pasar a un lado de la presa Ignacio Allende y más tarde por la comunidad de Agustín González, a pocos minutos encontrará indicado el acceso a la zona arqueológica (kilómetro 10+800 de la carretera 51).
Desde Guanajuato, tome la carretera 110 hacia Juventino Rosas hasta el entronque con la carretera 51 (a la altura Don Sebastián) para seguir en dirección de San Miguel de Allende. Continúe por la 51 hasta llegar al kilómetro 10+800, donde se indica el acceso a la zona arqueológica.
Su traza urbana refleja los ciclos cósmicos a los que se vinculaba la vida de grupos de agricultores que también practicaron la recolección y la cacería.
Horarios de visita: Martes a Domingo: 10:00 a 18:00 hrs. (ultimo recorrido a las 16:00 horas, ya que el recorrido dura aproximadamente más de dos horas).
Cuotas de recuperación: $39 para mayores de 12 años. $12 para mayores de 5 y menores de 12 años.
Descubre estas exclusivas Albercas subterráneas, termales, naturales y minerales, Vive esta experiencia a través de túneles de piedra, cuarzo y cristal iluminados con más de 100 velas. Contempla hermosos atardeceres desde sus piscinas y jardines exteriores.
Tel: 415 101 0045 bajo reservación.
Viñedos:
Hacienda San José Lavista: Tel: 4151559108. Recorridos sábados bajo reservación.
Viñedo Toyan: Tel: 4151242717. Recorridos de Martes a Domingo bajo reservación.
Viñedo Dos Búhos: Tel: 4151247583. Recorridos de Miércoles a Domingo bajo reservación.
Viñedo San Lucas: Tel: 4156882210. Recorridos de Viernes a Domingo bajo reservación
Viñedo San Miguel: Tel: 4772891368. Recorridos de Miércoles a Domingo bajo reservación.
Atractivos gratuitos:
Centro Histórico
Parroquia de San Miguel Arcángel
Parque Benito Juárez
Disponible en:

Español (Spanish)

日本語 (Japanese)