Disponible en:

Español (Spanish)

日本語 (Japanese)
Falling in love with Guanajuato
Guanajuato is a great destination to visit with family, friends and especially with your significant other. The city's picturesque colonial ambiance and an ample variety of cultural events attract visitors from around the globe. As the sun sets, the streets come alive with lights and music. Explore the city alleys in the company of a Baroque Ensemble, enjoying the melodies of our traditional folk music while sipping on a copita of mezcal.
Guanajuato is a vibrant city with a diversity of gastronomic expressions, from street food to fine dining at an haute cuisine restaurant.
Callejón del Beso
This is Guanajuato's most famous alley! According to popular legend, if a couple kisses while standing on the third step of the stairs going up the alley, they will be blessed with seven years of pure happiness. But beware, those who pass by without stopping for a kiss will suffer seven years of misfortune.
Visit Kiss Alley and unveil the story behind the myth!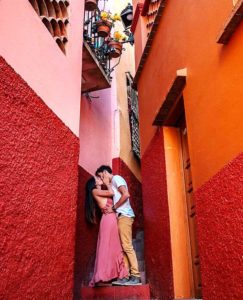 El Pípila Monument and Mirador
Perched atop a hill, an imposing statue in honor of local hero Juan José de los Reyes Martínez oversees the city. This historic figure is commonly referred to by his nickname, "El Pípila".
During the first battle of the Mexican War of Independence, El Pipíla courageously made his way through enemy gunshots to set fire to the large wooden door of the City Grain Exchange, which Spanish troops had fortified as a stronghold.
Take in the stunning scenic view of Guanajuato City from this mirador!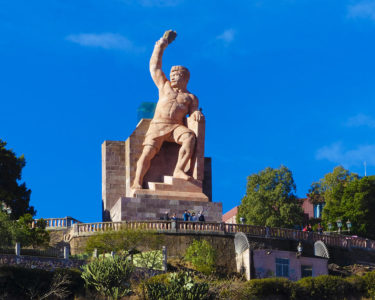 Mummy Museum
The museum showcases authentic human bodies preserved through a natural process called desiccation. A collection of over one hundred specimens unearthed from the Santa Paula Cemetery is on display.
You simply cannot miss out on this eerie yet interesting experience!
BJX International Film Festival
The city of Guanajuato, a UNESCO World Heritage Site, proudly presents the BJX International Film Festival. This event is the stage for the best of international cinema, gathering the elite of the film industry, renowned critics and acclaimed filmmakers.
Through the lens of the seventh art, the festival serves as a platform to promote the cultural legacy of nations from around the globe.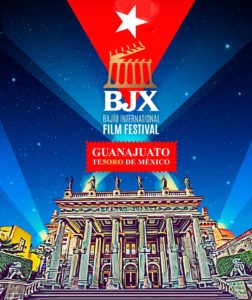 International Cervantino Festival
This is the largest cultural event in Mexico and Latin America! The festival is a symbol of Guanajuato's artistic spirit, it has been a steadfast tradition since 1972, when it was first held.
The Cervantino festival ranks among the top four most important events of its kind. Its relevance is further underscored by its membership in the European Festivals Association, and the Association of Asian Performing Arts Festivals.
Talented scenic artists from all the continents have taken the stage at El Cervantino!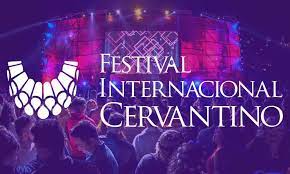 Festival del Día de Muertos
During the celebrations of El Festival de Día de Muertos, which translates to Day of the Dead Festival, the city streets come alive with a vast array of artistic expressions, all to celebrate the lives of our dearly departed. The festival prominently features ofrendas (artistic altars), musical performances, theater, culinary creations, street performers in Catrina attire (elegant skeletons), and colorful artistic carpets made with organic elements such as sawdust and flowers. In this day, everything revolves around the theme of death as a reminder to laugh, dance, drink, and embrace life while we are still here!
The festival owes its existence to the efforts of Manos Unidas De Guanajuato Asociación Civil, a non-profit organization that brings together citizens, educational institutions and privately owned companies.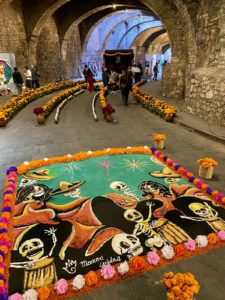 Callejoneada Tour
Recorrido Estudiantina Ruta Tradicional
This tour is all about walking through iconic alleyways in the company of a Baroque Ensemble performing folk music. Starting at the San Diego Church, tour members are guided through the city center, visiting Salto del Mono Alley, San Cayetano Plaza, Boliche Alley, and Antiguo de Gallos Alley. The final stop is Kiss Alley, where visitors are treated to the tragic tale that inspired the name of this famous landmark.
Duration: One and a half hours.
Starting at: 7:00 pm, 8:15 pm, 9:00 pm and 10:00 pm
Cost per person: $120.00 MXN
Free of charge for children under eight years of age
Guanajuato City Tour
Tour members will visit the following locations:
Old mine
Valenciana Church
Holy Inquisition Museum
Drive through the city's panoramic highway
City tunnels
Candy Factory
Bajada del tecolote
Rock and Mineral Market
El Pípila Monument and Mirador
Museums (additional charges may apply)
Sing up for this tour in one of the many information booths scattered across the city. The tour operator will arrange a direct pick-up from your hotel if needed.
Starting at: 10:30 am, 12:30 pm and 4:00 pm
Cost: $150 MXN
Quad Bike City Tour
In this adrenaline-inducing experience, participants will traverse the narrow alleys of Guanajuato City riding a four-wheeler ATV. Explore the colonial past of the city while riding a modern all-terrain vehicle.
Duration: 3 to 6 hours
Starting at: 8:30 am, 3:00 pm
Website: https://turismoalternativoenguanajuato.com/tour-de-naturaleza/tour-en-cuatrimotos/
Contact: Turismo Alternativo En Guanajuato +521 473 732 2591
Disponible en:

Español (Spanish)

日本語 (Japanese)