Disponible en:

Español (Spanish)

日本語 (Japanese)
.
This was the first town ever to be designated as a Magic Town in the state. Momentous events in Mexican history took place in the streets of Dolores Hidalgo, namely, the events that set ablaze the Mexican War of Independence movement. It's also the birthing place of the greatest singer and songwriter of Mexican folk music, José Alfredo Jiménez.
The artisanal Talavera pottery and Mayólica ceramics made in town stand out for their luminous colors. These tin-glazed lustered ceramics are crafted using a century-old traditional technique preserved through time in the hands of local artisans.
The unique local ice cream or 'nieve' is famous for the peculiar assortment of flavors it offers, ranging from mole or pork rind to 'garambullo', an endemic cactus fruit. A tribute to Mexican cuisine!
The streets and squares boast a rich historic heritage; while in town consider visiting Nuestra Señora de los Dolores Church, La Casa de las Visitas Manor or La Casa de Abasolo Manor recently transformed into a museum to commemorate the 200th anniversary of the Mexican War of Independence.
More points of interest can be found on the outskirts of the city such as a mausoleum in honor of José Alfredo Jimenez, Hacienda de la Erre or El Llanito community, a great place to sample the Otomí cuisine.
For wine enthusiasts: visit the Wine Museum, the second of its kind to be opened in Mexico or take a walk through one of the many beautiful vineyards in the region.
Parish of Our Lady of Dolores.
Commissioned by Álvaro de Osio y Ocampo, the construction of this parish began on February 2, 1712. The project was completed 66 years later in 1778. Its facade features a captivating Churrigueresque Baroque style. In this parish, on September 16, 1810, Father Miguel Hidalgo rang the church bell, calling for the people of Dolores to take up arms, thus initiating the Mexican War of Independence. This historical event is known as The Cry of Dolores.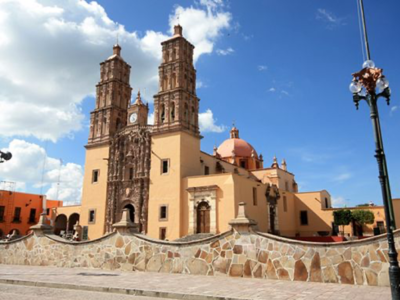 Jose Alfredo Jimenez's Mausoleum.
Jose Alfredo's final resting place is located at the municipal cemetery of Dolores Hidalgo. Built on November 23, 1998, the mausoleum features a design resembling a massive sombrero, with an epitaph underneath that reads: 'Life is not worth a thing.'
Location: Guanajuato-Dolores Highway, Kilometer 2.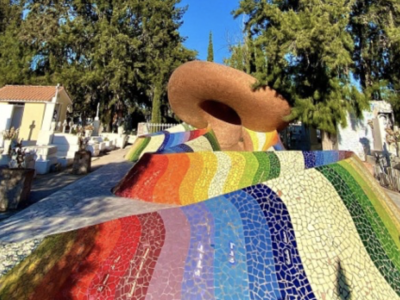 Don Miguel Hidalgo y Costilla House Museum.
Formerly known as 'Casa de Diezmo', this manor was built in 1779. Father Hidalgo transformed the premises in a school, offering lessons in art, pottery and music. Later he would also organize theater performances and catechism sessions. He resided in the manor until the year 1810.
Address:  1 Morelos  City Center, Dolores Hidalgo.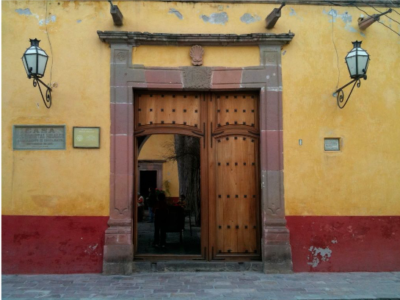 Jose Alfredo Jimenez House Museum.
The museum has 10 exhibition galleries, with each gallery documenting different stages in the life of Jose Alfredo Jimenez. One of the highlights of the museum is a mural painted by Octavio Ocampo, which depicts Jose Alfredo alongside prominent Mexican vernacular-music singers such as Lola Beltrán and Chabela Vargas. This mural is just one of the many interesting items on display.
Phone: 4181544070
Address: 13 Guanajuato St, City Center
Facebook: Casa Museo José Alfredo Jiménez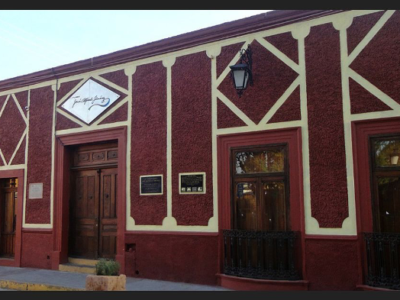 'Cuna de Tierra' became the first vineyard in Guanajuato when it was established in 1986, beginning with the planting of five distinct grape cultivars. Today, the vineyard spans 40 hectares, cultivating 22 different grape types, resulting in a production of 19 varieties of red wine, 3 rosés and 1 white wine.
Contact: enoexperiencias@cunadetierra.com.mx  Whatsapp 415 181 7691
Phone: 418 6880 078
Address: Carretera Dolores Hidalgo – San Luis de la Paz Km.11.5, Rancho el Rosillo, 37800 Dolores Hidalgo.
Facebook: Cuna de Tierra            Website: https://www.cunadetierra.com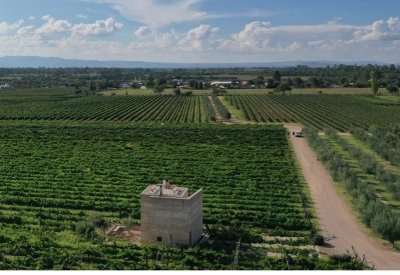 Hacienda San Bernardino a family-owned vineyard, is nestled in the heart of a region in Mexico where the wine industry first flourished. The hacienda provides an array of services, including a restaurant, hotel, and spa, ensuring a pleasant experience for visitors.
Contact: vinedosanbernardino@gmail.com
Phone: +52 (418) 148 1660
Address: Rancho San José de Badillo, Dolores Hidalgo, México.
La Santísima Trinidad, which translates to The Holy Trinity, is a unique concept. It harmoniously merges a real estate development with a charming agricultural expanse consisting of vineyards, olive tree plantations and lavender fields. Additionally, it offers a variety of amenities including a restaurant, polo field, a hotel, and workshops focused on the world of wine.  Experience life at its fullest at La Santísima Trinidad..
Contact: hotel@lasantisimatrinidad.com.mx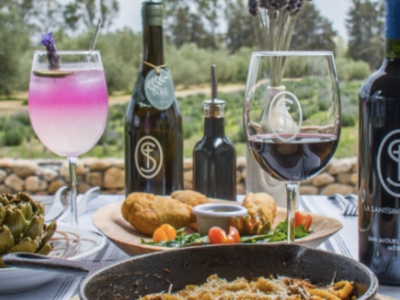 Tres Raíces Vineyard is located at the heart of the region known as "El Bajío", in Guanajuato state, the vineyard's primary objective is to foster the local wine culture and gastronomy, creating an immersive sensory experience for its visitors.
Tres Raíces Vineyard is a popular choice for hosting social events, business workshops, and family celebrations. Furthermore, the vineyard also operates as a hotel and offers guided tours of its wine cellars.
Contact: enoturismo@tresraices.com.mx
Phone: Whatsapp: 415 113 5250
Adress: Carretera San Miguel de Allende a Dolores KM 73, Ejido Tequisquiapan, Cd. Dolores Hidalgo
Facebook: Tres Raíces  Instagram: vinicolatresraices  Sitio Web: https://viñedotresraices.com/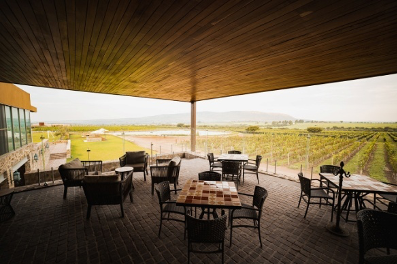 Los Arcángeles Vineyard offers a wide variety of wines, thoughtfully designed and balanced to please all palates. Their passion for the world of wine is dedicated to creating an atmosphere where families and friends can enjoy each other's company while savoring a premium selection of wines.
The in-house restaurant offers a variety of baked goods and pizzas prepared with grape-seed flour; these treats are the ideal pairing to enjoy alongside a glass of wine. Los Arcángeles provides hotel services and various recreational activities, to enhance your experience.
Contact: info@vinedolosarcangeles.com
Phone: 4181347118
Address: Carretera Dolores Hidalgo-San Diego de la Unión km 13      Código Postal: 37823
Facebook: Viñedo los Arcángeles            Instagram: vinedolosarcangeles                                                Sitio Web: www.vinedolosarcangeles.com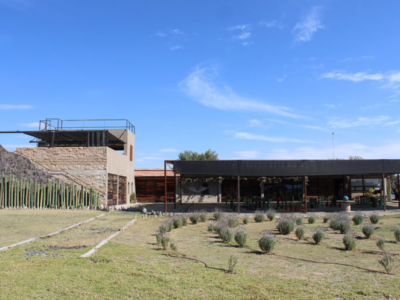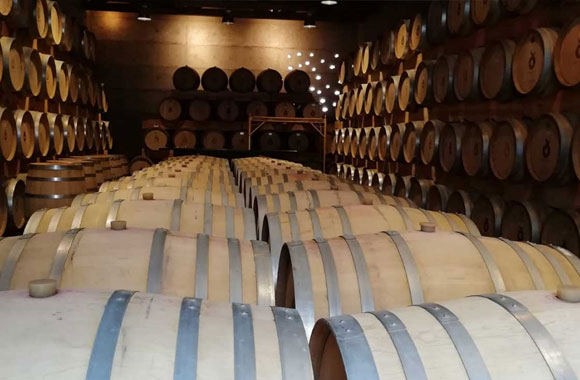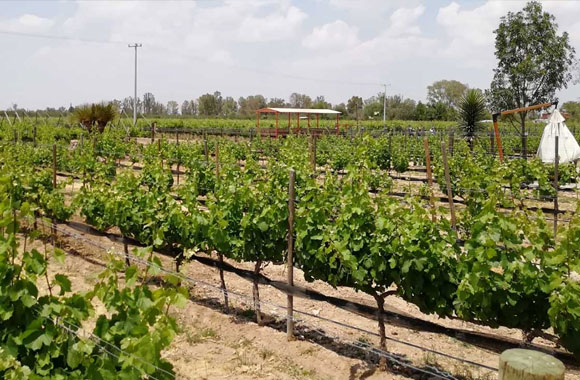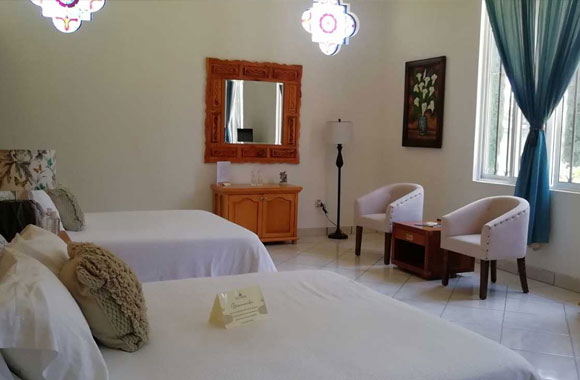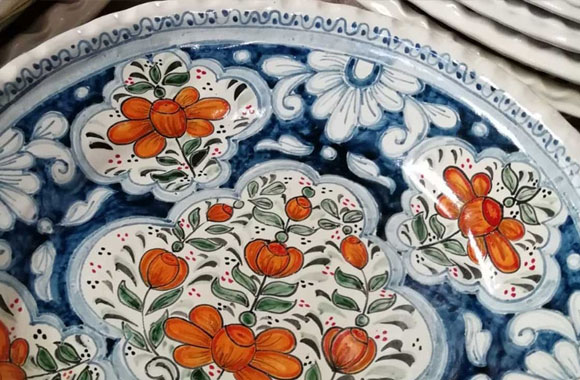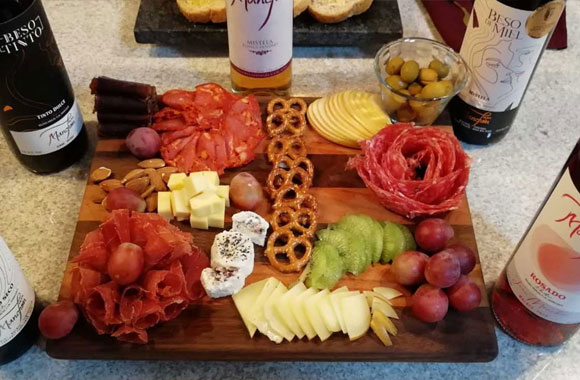 Live great stories in Dolores Hidalgo
The Wine Route
The Experience
Embark on a journey to discover the wine culture of Dolores Hidalgo. Visit three of the city's most iconic vineyards, where you can stroll through grape plantations and explore the inner workings of their wine cellars. Naturally, indulging in exquisite wines paired with the finest cuisine is the focus of this experience.
Contact: Consejo de Promoción Turística de Dolores Hidalgo
E-mail: comiteturismodhg@gmail.com
Instagram: @doloreshidalgo.mex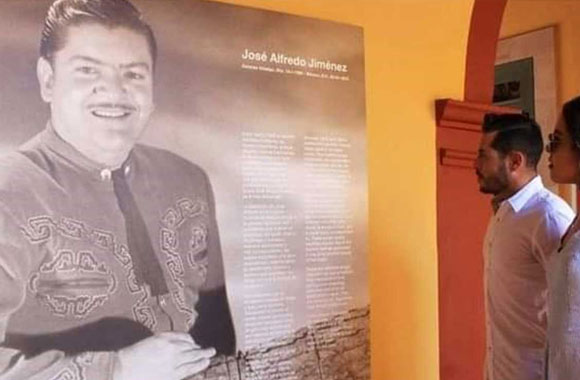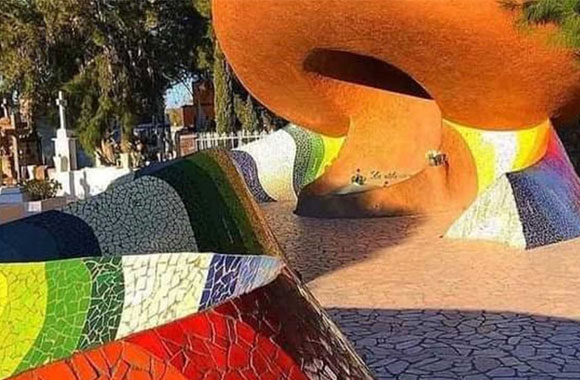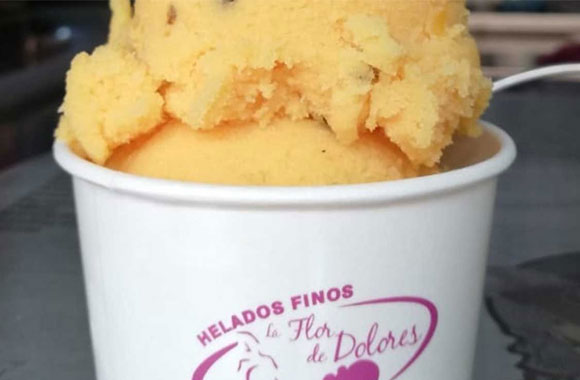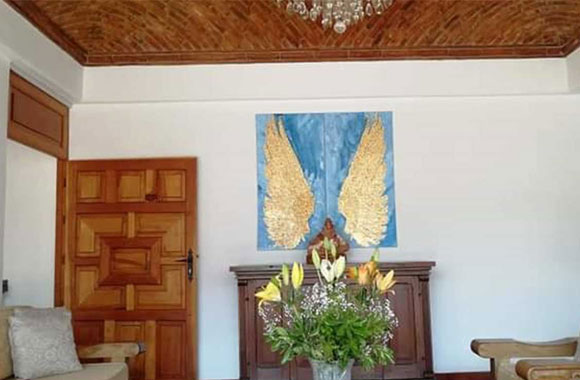 Live great stories in Dolores Hidalgo
This is Dolores, what a charming town!
The Experience
Explore the picturesque town of Dolores Hidalgo, where momentous events in Mexican history have taken place. It is also the birthplace of the great José Alfredo Jiménez, an iconic singer and composer of Mexican folk music. The town has a plethora of traditions and festivities. In 2002, it was rightfully bestowed with the title of "Magic Town".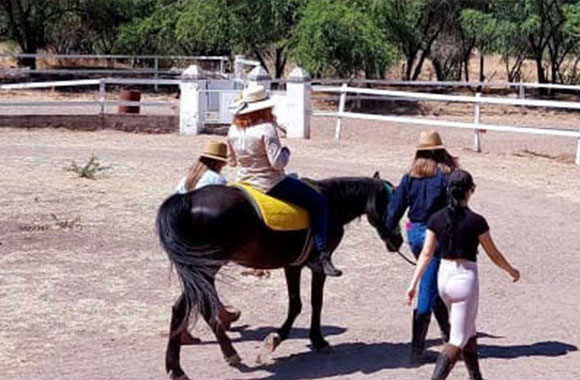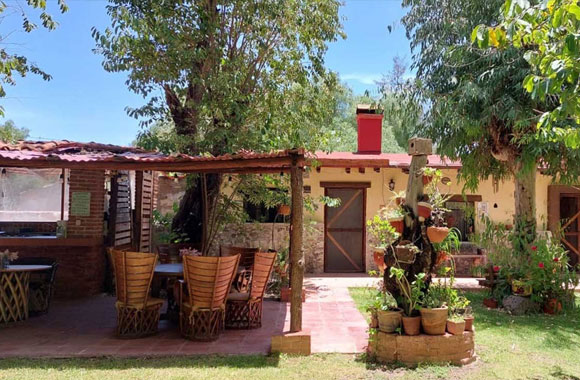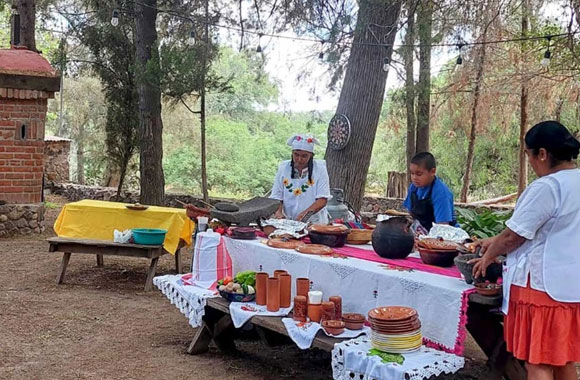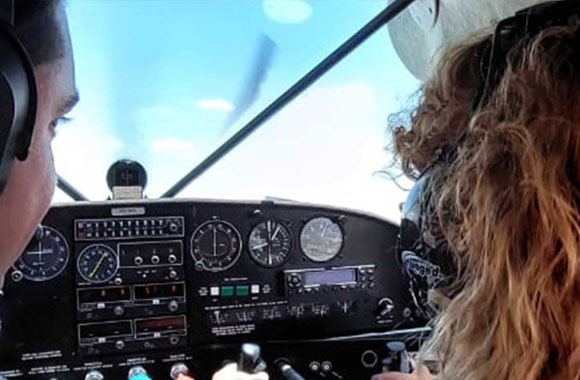 Live great stories in Dolores Hidalgo
BioTour, connect with nature!
The Experience
Experience the outdoors in an eco-friendly manner, enjoy the natural beauty of the region while contributing to its preservation. Engage in a range of activities, from nature watching and photography, to trekking and cycling. In this experience, you can also participate in workshops centered on raising environmental awareness.
Contact: María de Lourdes del Ángel Rivera
Phone: 4181529567
losnogalesdh@gmail.com
Website: www.cabanaslosnogales.com
Facebook: Cabañas Los Nogales Dolores Hidalgo, Guanajuato México
Instagram: cabanas_los_nogales_dh
Disponible en:

Español (Spanish)

日本語 (Japanese)